The Mushroom House is a decoration added in the Country Life game in March, 25th 2016, on the occasion of the Easter 2016 Event.
The player can buy it for 49 RC or try to get it for free if he collects all the 15 Easter Eggs with the Egg Dyer.
How does it works?
Edit
Every 3 hours, the Mushroom House gives an egg to the player.

The egg looks like the Little Eggward Egg but the gift can contain 5 different eggs : Mr. Rabbit Egg, Lines & Dots Egg, Purple Whitey Egg, Little Eggward Egg or Dilbert Egg. It also gives a "Faster Farming" bonus and some OP.
Here is the popup appearing when the player clicks on the egg of the Mushroom House :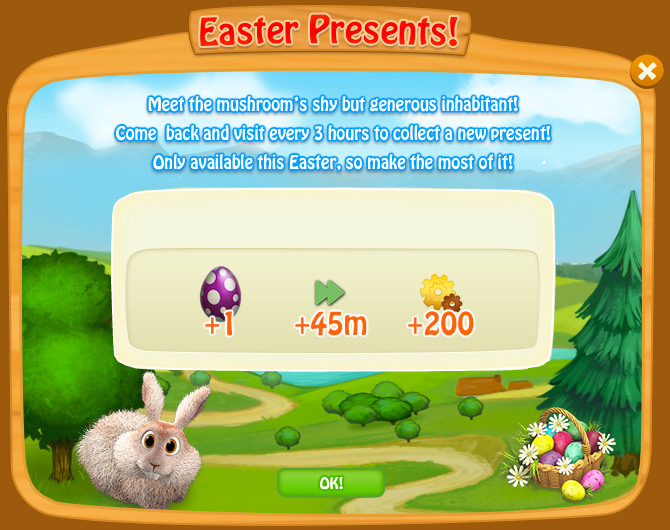 Duration of "Faster Farming" bonus and quantity of OP varies.
Ad blocker interference detected!
Wikia is a free-to-use site that makes money from advertising. We have a modified experience for viewers using ad blockers

Wikia is not accessible if you've made further modifications. Remove the custom ad blocker rule(s) and the page will load as expected.