Introduction pop-up
Edit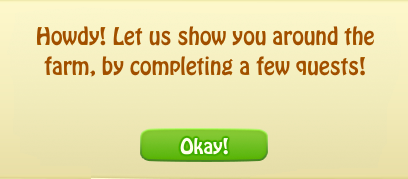 Icon
Quest content
Help content
Harvest 8 plots of Clover
Click each plot to harvest the clover. You can also click and drag over multiple crops to harvest quickly.
Feed the Cow
Click the trough in front of the cow to add clover.
Replant Clover on 8 plots of soil
Click on an empty plot of soil and pick the clover seeds from the store.
These quests are supposed to help new players, and new players have an Holstein Cow on their farm. So you have to feed an Holstein Cow to complete the quest. Ayrshire Cow and Montbéliarde Cow won't valid the mission.